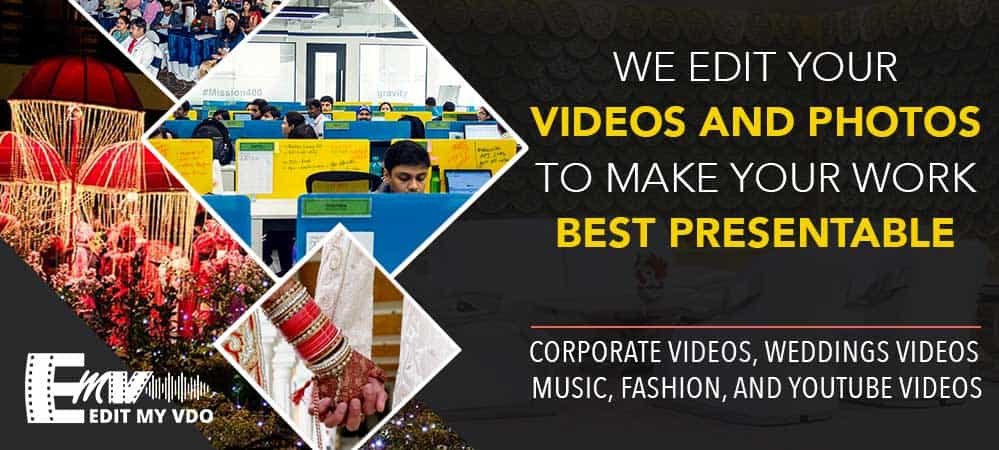 Professional Video Editing Services
Get a competitive edge over others and achieve success in the market by availing our best professional video editing services.
We offers our key services in Cinematic Wedding Videos Edit, Corporate Videos Edit, Fashion Videos Edit, Music Videos Edit, Training Videos Edit, YouTube Videos Editing, and many more...
Our team of experts is capable of offering different video editing styles based on their exposure to editing of hundreds of clients with varied requirements. The final video that you will get in the format required by you will be a story in itself that will be remembered and cherished forever by your clients.
Our Video Editing Services Include:
Documentary Style Wedding Video Edit
Cinematic/Traditional Wedding Video Edit
Pre-Wedding Videos Edit
Highlights, Teasers, Trailers Video Edit
Long or Full Duration Video Edit
Color Correction and Color Grading
Multi-cam Audio & Video Synching & Editing
Capable of converting all video formats for editing
Final output in required video format
2D Animations and Motion Graphics
Photos Editing & Album Design Services
At Edit My VDO (Video) we offer creative images editing, photo album services for you and your clients. Our team of experts ensures that your style of photography shines and your work creates more visibility while making the memories of your clients to be cherished forever.
By taking help of our Photo Editing & Album Design services, you can forget about this time-consuming task from your 'To-Do List', focus on photo shoots, and have happier clients and more referrals. If your clients want to share their joy of wedding or engagement with their friends and family, they can avail our Wedding Website Design service at an affordable cost.
Our Photo Editing, Album & Website Design Services Include:
Image Retouching - Simple to complex
Color Correction
Image Manipulation
Digital Image Correction
RAW Conversion
Images Optimisation for Web Use
Creative Album Designs for Wedding & Events
Culling service to select the best shots
eCommerce/ Product Photo Editing Services
Impressive Video and Photo Gallery
Edit My VDO (Video) is a team of skilled, well-trained and experienced video & photo editors, motion designers, graphic designers.We are providing our high-quality services to Photography Studios, Production Houses, Media Agencies, Corporates, Advertising Agencies, Individuals, Cinematographers and Photographers in Delhi NCR, India and Globally. With our video & photo editing services, you can focus entirely on producing and shooting wedding ceremonies, corporate events and other videos and also you can manage your time, interact with prospective customers, and indulge in other important aspects of your business.
You need not to worry about the final results as we are professionally equipped with all the necessary tools to handle all of your video and photo editing, photo album designing, DVD or Blu-ray disk case/ lebel designing requirements.
So far, we have offered our quality and exceptional services to our esteemed and satisfied clients across the globe. While availing our services, you can leave your concern about the privacy of your clients on the back seat as we work as an extension of your organization rather than an outsourcing company and maintain a strict system to ensure that all the confidential information related to your client is protected from unauthorized access.
Here are a few more reasons that can make you think of outsourcing services to us:
Unmatched creative inputs for value addition
Creation of wedding photo albums with a touch of creativity
Delivery of final product within stipulated time period
Better understanding of the needs of clients
High quality video & photo editing, graphic designing at reasonable cost
Delivery of final videos/ photo in required customized formats
If you want to learn more about the services that we offer, just call us at +91 9582218821 or drop a mail at editmyvideo@gmail.com, we would get back to you at the earliest.
At Edit My VDO (Video), the way we make impressive and creative videos/ photo albums is very simple. You need to just capture the event, ship the raw footage/ photos to us and just relax.
Once all the initial formalities, project requirements, terms and conditions related to the project are agreed upon in writing by both the parties, you can send us the hard drive/ drives of raw video footage and photos through National & International courier services.
You can also send us the raw photos, proxy footage (Low resolution video files) via FTP, WeTransfer, Dropbox or Google Drive, etc.
The moment we receive the raw video footage/ photos, our team of experts will review the raw data and organize/re-organize it for further editing flow.
Before starting work on the project or during the production, if any technical issues are detected by our team in the provided raw data, or any project related things are needed, we would get in touch with you. If everything is in order, we would complete the edit in the agreed time frame, and then send it to you in low resolution format on a secure online platform for your or your client's stamp of approval.
Once your approval is received, you will get the final edited video/ photos or photo album in the agreed format.
However, if still any changes are needed from your or your client's side then we can discuss the situation and agree upon the best course of action to work on it.
This is just a brief walk-through of our process of working, if you want to know more or discuss about your specific needs directly, please feel free to contact us.
For whom the services of Edit My VDO (EMV) are designed for?
Our services are meant for those Video/ Photography Companies, Event Management Companies, Wedding/ Party Planners, and individual Photographers/ Videographers that offer their services directly to their clients.
What other services are offered by EMV besides Wedding Video & Photo Editing?
We can also edit Corporate Film/ Videos, Event Videos, Presentation Videos, Fashion Videos, DIY Instructional Videos, Explainer Videos, Training Film, Educational Videos, TVCs, Product Demo Videos, Music Videos, Promotional Videos, Web Videos, Online Marketing Videos, Motion Graphics, Informercials, Typographic Videos, Video Promotion and Digital Marketing etc. We are expert in creation of customized photo/ video montages.
You can contact us to know whether we cater to any specific requirement of yours or not.
How much do you charge for video edits and other services?
The cost for our services vary according to the needs of our clients. You can contact us for the pricing of your specific needs.
What inputs are required by team EMV to edit my photos or videos?
Everyone has their own style for their product and we will ask you numerous questions related your project requirement so that we can better understand and deliver the final output as expected by you. If required, we will suggest you some ideas to improve or enhance the project. Our motive is to work as an extension of your business, not as an individual outsourced company.
Why should I take the services of EMV instead of doing them myself?
The advantages of taking our services are:
Our turn-around time is very fast and consistent. You can expect to receive the final completed project in about 1-3 weeks from the day we receive the last asset for the project.
The equipment, software and techniques used by us are latest and of top end.
In what formats can EMV edit videos?
We can edit videos in any tapeless formats such as 4K, MPG, MPG2, FLV MPEG4, H.264, MOV, MP4, BPAV, AVCHD, VOB, MXF, WMV, etc. and tape formats likeMINI DV, DVCAM, DV & HDV. You can contact us to discuss upon it. For the creation of photo montages/ albums, the accepted formats are jpeg, jpg, and bmp only.
How can we send raw/ proxy footage files, image and other assets to EMV?
You can send us the hard drive/ drives of raw video footage and photos through National & International courier services.
You can also send us the raw photos, proxy footage (Low resolution video files) via FTP, WeTransfer, Dropbox or Google Drive, etc.
Can EMV send me the finished video edit in a digital format of my choice instead of DVD/ Blu-ray format so that I can do the DVD authoring myself?
For how long EMV hold onto my projects?
A minimum of 6 months is the time duration for which we hold onto a completed project. A backup DVD or HD digital file of the completed project will also be sent to you.